There Are 9 Gift Certificates Still Available


We just worked out a special offer with the Staybridge Suites Midvale location in Salt Lake City to offer a limited number of $149.00 Room Gift Certificates at Half Price, only $74.50 each.


Each $149.00 certificate goes towards any King/Queen Studio for a one ( 1 ) Night Stay & tax is already Included!


The Staybridge Suites in Midvale is one of Salt Lake's Newest and Most Modern Hotels. We are the perfect place to call home. Conveniently located off I-15 & 7200 South just a short 20 minute drive from the Salt Lake International Airport, 15 minutes from Downtown Salt Lake, Historic Temple Square & City Creek Mall, and just 30 minutes to World Class Ski Resorts. This geographic setting creates a perfect, easily accessible location, while still providing a quiet atmosphere for our guests.

Our Hotel Offers Studio Suites and One Bedrooms Suites that offer free high speed Internet access, fully equipped kitchens, living area and a well-lit work area. Direct dial telephone numbers and voice mail at affordable rates. The on-site, complimentary guest laundry is open 24 hours a day.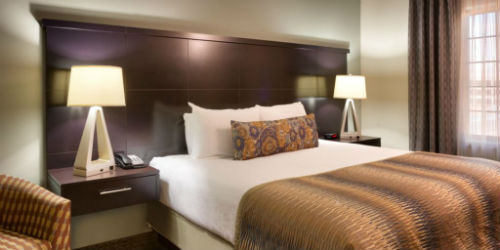 Gorgeous Warm Clean Rooms:


When it's time to unwind, the hotel offers a variety of options, including a fitness center and a outdoor heated pool & hot tub. A complimentary hot/cold buffet breakfast is served daily and an evening dinner social is available to guests Monday thru Wednesday each week.

Staybridge Suites offers a welcoming extended stay for today's busy travelers. But what truly sets us apart are the refreshingly modern comforts, a genuinely caring team, and a sense of community; all within warm, home-like surroundings. This makes it easier for our guests to be themselves, and a little easier to be on the road.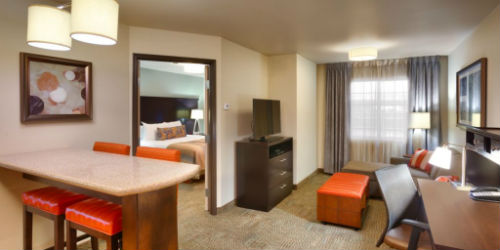 One Bedroom Suite:


Just minutes from the hotel, Fashion Place Mall offers many fabulous shopping options featuring 150 retailers such as Nordstroms, Dillards, HG, Crate and Barrel, Apple, & more. Restaurants, entertainment and the Historic Gardner Village is close by. Staybridge Suites is adjacent to the Trax station (quiet, electric train) which provides light rail access from the Airport to Staybridge Suites with only one transfer. Trax will also take you to downtown Salt Lake City, for site seeing, fine dining and shopping.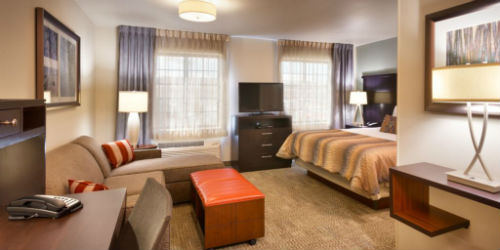 King Studio:


Location, Location, Location to our Ski Resorts:
The Staybridge is located on our "Ski Corridor", a key factor for many. With easy access to the mountains, ski bus availability is convenient and with a Trax Station (electric, light rail) adjacent to the hotel, it's always a plus. This makes going to fine dining, shopping, award winning breweries and sightseeing easy and accessible if you don't want to rent a car. Being so close just makes everything minutes away where it adds to your complete "Ski Vacation Package".


Ski Bus Stop Right on the Corner:
New! A UTA Ski Bus Station is Now Located Right on the Corner.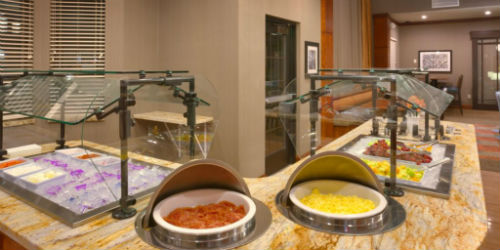 Complimentary Hot Breakfast Buffett


Discounts on Ski Tickets & Ski Equipment:
Staybridge Suites provides discounts on ski tickets and ski equipment. It makes your ski vacation not only simple but a great value as well. Tickets can be purchased at front desk. Ski equipment can be preordered and ready for your arrival. A ski equipment company that will pick you up and take you to their location for proper fitting makes this a process a breeze.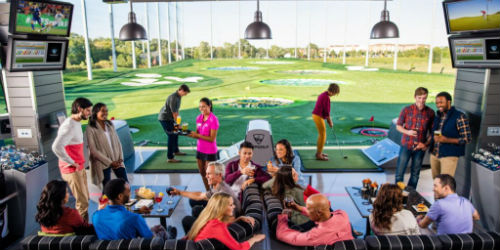 A Top Golf is Right Across the Street
Topgolf is the premier golf entertainment complex where the competition of sport meets your favorite local hangout. Players hit golf balls containing computer microchips that track each shot's accuracy and distance while also awarding points for hitting targets on the outfield. Each venue offers an upscale, laid-back experience that features climate-controlled hitting bays, event spaces for groups of all sizes, and an impressive food and drink menu.
Top Golf's Official Site


Ski Storage Lockers:
Staybridge Suites has an extra bonus for skiers - What could be better than a hotel that includes a private ski storage closet? This is a huge bonus for all skiers. This way you don't lose any space in your room when you come back from the slopes.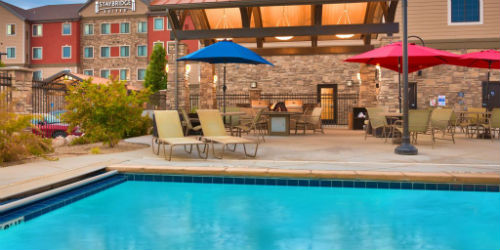 HOTEL AMENITIES & EXTRA'S:
Spacious Suites - Studios and 1 Bedroom Suites
Fully-Equipped Kitchens
Complimentary Full Breakfast Buffet featuring Wolfgang Puck Coffee
Dinner Social - Evening reception with great food, drinks, and conversation Monday Thru Wednesday evenings
Iron and full size ironing board
Complimentary on site guest laundry
24-Hour Business Center, E-mail & Internet Use
24-Hour Fitness Center
Standard Check-In Time is 3pm
24/7 Convenience Store with snacks, beverages, and easy to prepare meals
Wireless Anywhere - Free Wireless Internet Access throughout the hotel
Outdoor Heated Pool & Hot Tub, (Open Year Round) - and BBQ Grills
Pet Friendly Rooms
A Top Golf Is Right Across The Street
Ideal Floorplan for Family Reunions and for Corporate Retreats
Only 12 miles to Downtown Salt Lake City
Only 17 minutes to our Salt Lake Airport
Less than 27 miles to Park City
16 to 20 Miles from 4 World Class Ski Resorts, Solitude, Brighton, Snowbird & Alta
Ski Lockers, No Charge for our Guests
The certificates are signed and numbered and you will need to present them at check-in. The $149.00 Gift Certificate gets applied to the room rate, you just have to pay any difference if you incur additional charges. Tax Is Already Included! Complimentary breakfast is Included.


Redeeming room certificates are subject to room availability. Before you order the certificate(s), we suggest you call the hotel @ 801-871-0871, This is a Salt Lake City Promotion. You will want to talk with the Front Desk.

( To check availability with the Front Desk, when you call 801-871-0871 you need to Press 'O' Zero, not 1, 2 or 3, and speak with them directly, ) then make your reservation and let them know you will be paying for your room with these Ski Salt Lake - $149.00 Gift Certificate(s).

Once we receive your order, we will send you the certificates by first class mail or they can be delivered to the hotel for last minute stays. You will need to contact us if this is needed. Contact Us - Email: bob@saltlakecityutah.org


There Are 9 Gift Certificates Still Available


$149.00 Room Certificate At Half Price $74.50 ( plus 1.00 shipping/handling ) = $75.50

Tax is Already Included.


Secured Credit Card Processing: - Visa - Mastercard - Debit Card - American Express - Discover or with your PayPal account.

( Select the Number of Certificates you would like to order from the Drop Down Menu Below and then click the Buy Now Button and follow the easy ordering instructions. )








Questions? Click here to Email us - Email: bob@saltlakecityutah.org


You can purchase as many gift certificates as you like.

Valid For Nights Through Dec 31st 2019.

Blacked Out Dates - None reported at this time.

Redeeming room certificates are subject to room availability. Before you order the certificate(s), we suggest you call the hotel @ 801-871-0871, This is a Salt Lake City Promotion. You will want to talk with the Front Desk.

( To check availability with the Front Desk, when you call 801-871-0871 you need to Press 'O' Zero, not 1, 2 or 3, and speak with them directly, ) then make your reservation and let them know you will be paying for your room with these Ski Salt Lake - $149.00 Gift Certificate(s).

Room Certificates are not redeemable for cash.

Room Certificates cannot be used in conjunction with other Staybridge Suites offers or coupons.

This offer is for a limited time, based on availability and subject to change without notice. Once they're sold out, that's it!

Official Website of the StayBridge Suites - Midvale - 801.871.0871


Utah Travel Links

Utah Vacations Salt Lake City Travel & Tourism Salt Lake City Hotels

Park City Info Ski Salt Lake Skiing Utah


Utah Vacations, Travel Coupons